Camargue between land and water by houseboat
Camargue is one of those amazing places where you feel completely at home while on holidays. Experiencing this stunning area from a houseboat allows you to enjoy and appreciate this region in a new way. From your boat you will find that it is simple to reach many different places on foot or on your bike and thus you can admire the lazy beaches of the Mediterranean, or even discover the wild and mythic parts of Camargue…
Large expanses of salt marshes and the vast natural park are home to a very diverse fauna: pink flamingos, bulls, wild horses and about 350 different types of migratory birds who normally nest in the Rhone delta. You could make your cruise into a safari and experience the all the beautiful environments that the South of France has to offer
A lake of adventure; Lake Thau invites you to experience sea navigation while delighting in visiting the welcoming ports that lie on the lake, such as Frontignan or Marseillan
The must-see cultural curiosities:
The town of Aigues-Mortes which has a rich cultural past that is strongly linked with the kings of France. The pedestrian centre is also surrounded by 1640m of ramparts dating back to the 13th century.
Béziers: as you leave behind the countryside of Camargue you will come across the magnificent landscapes of Béziers in the Cathar region.
Adventuring in the Camargue on a houseboat is the same as entering another world where you discover nature and history all set in the beautiful, sunlight South of France.
To know our itinerary suggestions, thank you visit the page of our base of Carnon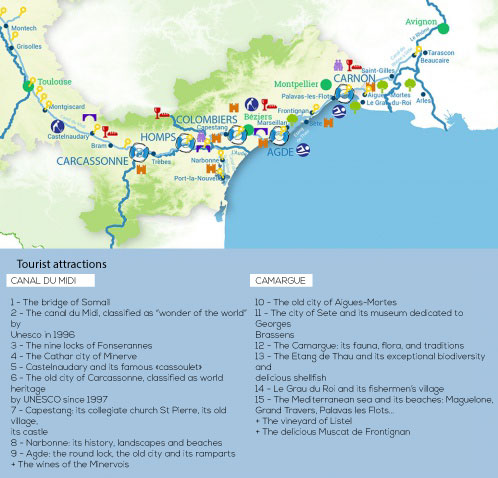 Photo Gallery of Camargue River Cruises