Discover all our tourist information from Colombiers. Rent a boat without licence and leave discovering the region of the Canal du Midi and the Camargue.
This base represents the most recent addition to the Canalous cruises and the first cruise will embark in the spring of 2012. This small port, noted for its semicircular shape is ideally placed along the Canal du Midi, vibrates to the rhythms of bullfights and rugby. It is several kilometers west of Béziers, wine capital of the Languedoc Region. Close to Béziers, the celebrated locks of Fonsérannes undeniably constitute the most impressive structure along the Canal du Midi. This ladder of locks in succession allows one to rise 21.5 meters in height over the course of 300 meters. Originally made up of 9 locks, only 7 are still in service today.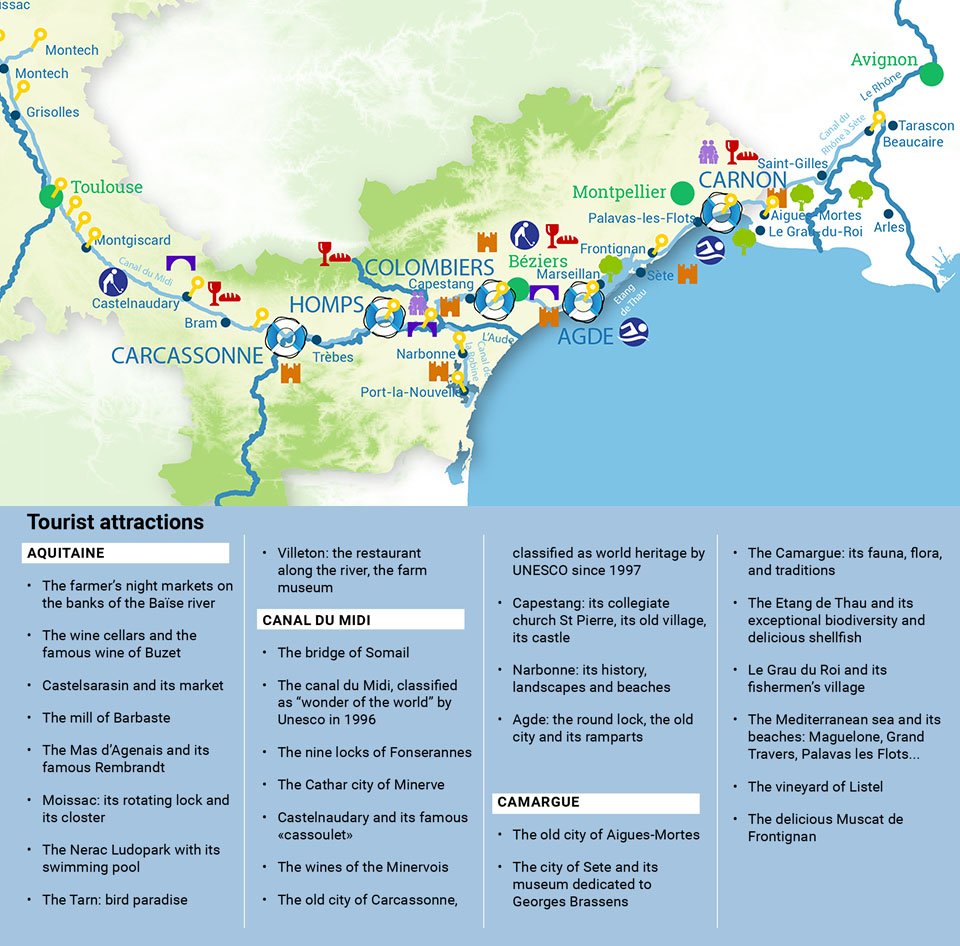 To see : 9 locks of Fonsérannes, Béziers, Canal du Midi, church Saint Silvestre, the pond dried up by Montady-Colombiers, the site of Malpas, Via Domitia, the ancient wine cellar of Chateau.
To know : Along the way Domitienne, on a small headland which overhangs a pond, Colombiers settled down during the centuries, by being not very situated well far from Béziers.
Most important : The port in semicircle of Colombiers
Departing from Colombiers:
Week end
Colombiers – Somail – Colombiers : 68 km – 0 lock – 10 hours
Week end one way
Colombiers – Agde : 31 km – 12 locks – 8 hours
Mini week
Colombiers – Marseillan – Colombiers : 90 km – 26 locks – 20 hours
Colombiers – Narbonne – Colombiers : 84 km – 22 locks – 20 hours
Colombiers – Homps – Colombiers : 108 km – 12 locks – 18 hours
Mini week one way
Colombiers – Marseillan – Agde : 51 km – 18 locks – 11 hours
Colombiers – Carcassonne : 95 km – 18 locks – 17 hours
One week
Colombiers – Sète – Colombiers : 120 km – 26 locks – 26 hours
Colombiers – Carcassonne – Colombiers : 192 km – 54 locks – 35 hours
Colombiers – Port la Nouvelle – Colombiers : 126 km – 24 locks – 30 hours
One week one way
Colombiers – Aigues-Mortes – Carnon : 125 km – 15 locks – 25 hours
Colombiers – Carcassonne – Bram – Carcassonne : 143 km – 28 locks – 25 hours
Two weeks
Colombiers – Aigues-Mortes – Colombiers : 256 km – 26 locks – 50 hours
Colombiers – Castelnaudary – Colombiers : 272 km – 102 locks – 52 hours